We often get asked if Shared Hands provides VA's.  The answer is, yes.  But there's more to the discussion, so let's back up a bit.
What's a VA?  A VA is a Virtual Assistant.  Virtual Assistants are like personal assistants, except they work "virtually" or remotely.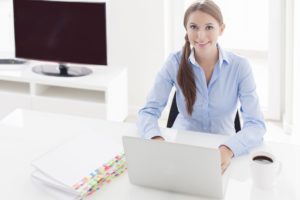 VA's have become very popular in the entrepreneurial world. Several authors and entrepreneurs have written at length about how and why to hire a VA.  Chris Ducker has a book called Virtual Freedom, which explains how you can free up your time by hiring a VA.  Michael Hyatt has a book called Virtual Assistant Solution, where he also explains the benefits of hiring a virtual assistant.
In this Virtual Assistant planner, I want to help you decide whether you need a virtual assistant, and if so, what kind of assistant.
Let's talk more about the "virtual" part.   We work in a world where much of our work can be done remotely.  Smart phones and ever-present Internet connections let us do work practically anywhere.  Online services provide business tools that can be accessed from anywhere.
The VA idea lets you hire an assistant who works completely remotely, and provides you assistance on your administrative tasks. He or she will communicate with you via email or Skype. Your assistant can work on almost any online service that you need help with.  He or she might live in another country.  Both Ducker's and Hyatt's books discuss hiring virtual assistants who live in the Philippines.
Why would you hire an assistant who lives so far away?  The #1 reason is cost.  You can pay a VA a tiny amount compared to hiring a local assistant.
But let me make the case for having a local assistant.  First of all, there's time zone issues.  If you're working in Eastern Time, and you need something done today, you can ask your assistant to do it, and it gets done today.  With a VA on the other side of the world, the turn-around time can be a day, and sometimes even two days.
Secondly, there's culture.  When you talk with your local assistant, you don't need to explain American slang terms, you don't need to convey the importance of American holidays or events, you can make a joke and know that it will be understood as just that.
Another issue is workload.  Most often, virtual assistants in the Philippines will only take a 40-hour per week full time position, or possibly a 30-hour per week part-time position.  Do you actually have that much overhead to outsource?  What often happens is that the huge list of tasks gets taken care of, and then the assistant is left with very little to do.  (I've written about this issue in another article.)
Another related issue is turn-over.  For some reason, VA's in some countries tend to work for a few months and then quit.  Even if you have hired your VA through an agency, finding and training a new VA takes time and causes a lot of inefficiency.
Here's the important difference – There are some tasks that really need to be done by someone local: picking up stamps or office supplies, setting up for a meeting or conference, front-desk or receptionist work, taking notes in meetings, and so on.  If you want to have one assistant to help with all of your administrative tasks, you'll find that a local assistant works best.
As it turns out, Shared Hands assistants do much of our work remotely.  About 80% of the work can be done from anywhere – social media updates, drafting emails, bookkeeping tasks, Internet research, and so on.  But the other 20% of the work is done in person, and you actually get to know your assistant personally.  You meet face to face and build a rapport.  That's invaluable, and really makes the work easier going forward.  Once you know someone, it's much easier to work with them.
The Virtual Assistant Planner also has the "planner" part. Let's talk about that.  Having a plan is critically important.  Many entrepreneurs know they have lots of tasks to do, but haven't thought through the process of handing tasks over to their assistant.  It's a common story – the Mr. Executive hires an assistant, swamps her with tasks, then she gets frustrated with lack of direction, and then he gets frustrated with lack of progress, and then he just decides it was easier to do it himself. 
Shared Hands takes you through the process step by step.  We plan the initial meetings between the business owner and the admin assistant, and set up schedules and check-in calls, and even have a Virtual Assistant Planner template to download.
Plan ahead and work your plan – use the virtual assistant planner.  Use the planner to know what kinds of work you need your assistant for, and how much of it can be done remotely.  Questions on making a virtual assistant plan?  We're here to help. 
One more thing to wrap this up – Shared Hands lets you pick your plan – do you need 10 hours of help per month?  Maybe 20?  Maybe just a 5-hour one-time project?  That's a perfect way for us to help you become more productive.